Locations
Mae Sot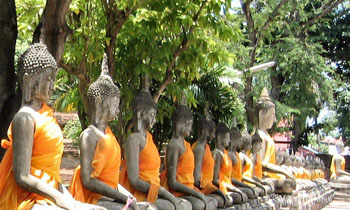 MOEI, the precursor to NGL was based in Mae Sot, Tak Province, which is situated just a few miles from Myanmar. Students in Mae Sot are mostly refugees from Myanmar. Most of the schools NGL works with can be reached on a daily basis from Mae Sot — either by bike or by songtaew (line-car). Teachers at these schools generally stay in hotels and guesthouses in Mae Sot — though some occasionally stay at their schools. Mae Sot is a reasonably large border town, and has quite a few restaurants and bars. There are many options for both food and drink.
Chiang Rai
NGL has operated in Chiang Rai for the first time in 2018. Although this location is similar to Mae Sot it is also very different. Chiang Rai is located just south of the Golden Triangle where Thailand, Laos and Myanmar meet. The hills surrounding this provincial capitol are home to many hill tribes and has historically been a centre of opium production. In recent years the area has undergone significant development in part because of the China's Belt and Road Initiative. Teachers at this school will be located in Amphur Muang (the main city) as well as in some of the surrounding hills (see the description of Mae Sai below).
Mae Sai
Mae Sai is located about an hour outside of Chiang Rai on the border with Myanmar.  This small community became somewhat famous last year when a group of boys was trapped in a cave and subsequently rescued.  This location in the Golden Triangle was once an area where lots of opium was grown – these crops have now been replaced with coffee and tea.  Our volunteers in these locations live in their schools where the students are mostly from Myanmar and ethnic minority groups.   Volunteers can travel quite easily back to Chiang Rai or other parts of Thailand (e.g. Chiang Mai) on weekends.
Weather
Virtually every day in June and July there is heavy rain in the afternoon, and often it will rain heavily all day long. Sometimes the rain will persist for several days. All participants therefore need to be prepared to work in very wet conditions.
Health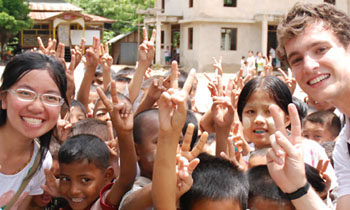 NGL participants must take full responsibility for health cover and health insurance throughout the duration of the programme. In Thailand, the NGL programme takes place in a malarial zone during the rainy season although the risk is low. Dengue fever is a real possibility, and NGL Thailand has registered cases in past years. Although Mae Sot and Chiang Rai are relatively safe, all participants must consult a doctor in advance of joining the NGL programme and must follow any medical advice they are given. Both of the areas where we operate have hospitals and clinics which participants can access on a self-paid basis. (Please read the HKU or NGL youth travel insurance policies for information about reimbursement.)
Accommodation
Mae Sot: There are several cheap hotels in Mae Sot however most participants choose to stay together at DK Hotel. DK is central to Mae Sot and within walking distance of a variety of restaurants and the Burmese market. Rooms can be booked for THB300-400 a day. If occupied on a twin-share basis, the cost per person per night is THB150-200. A few participants though will also be asked to stay in their host schools as these are further away. Most schools encourage participants to return to Mae Sot at the weekend.
Chiang Rai: There are main city areas and hill-side teaching locations in Chiang Rai. For the city locations, some students will live together in the same hotel/guesthouse while students teach in schools near hill-side will live in school dorm.
For those residing in schools, we suggest a donation be made at the end to cover the expenses. A simple way to calculate the amount would be to think of how much has been saved in hotel costs.
Personal Safety
Our locations in Thailand do not face any particular personal safety issues. Nevertheless, foreigners are highly visible throughout the border zone, and must take necessary precautions. Personal safety is the personal responsibility of each participant.
Currency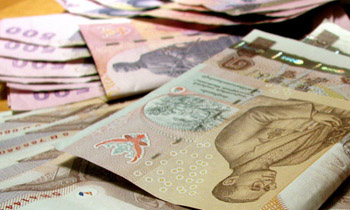 Thailand uses the baht. 1 USD = 36 THB. 1 HKD = 5 THB.
Visa
For NGL Thailand, all selected applicants will be sent a letter addressed to the visa section of the Thai Embassy in their country of citizenship. This letter will enable them to apply for a Non-Immigrant O visa for Thailand to cover the full duration of the NGL programme. The cost of a visa varies from country to country, but is generally around US$100. All participants must cover their own visa costs.
Cost
For NGL Thailand, the main cost of joining the programme is an international flight to Bangkok. Participants also need to cover their own insurance, visa and healthcare costs. In-country costs for a stay of around 75 days are generally low. A very rough estimate of the major costs is given below. Note that actual costs may not conform precisely to this breakdown, which is presented as a general guideline only.
| | |
| --- | --- |
| Item | HKD |
| Accommodation | 3000 |
| Food and beverage | 2500 |
| Transportation including return flights from HK | 4500 |
| Cultural visits | 1500 |
| Miscenllaneous (e.g. teaching materials, insurance, visa) | 1000 |
| TOTAL | 12500 |
Getting Around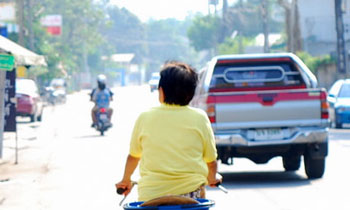 Mae Sot can be reached by long-distance coach from many parts of Thailand. From Mo Chit bus station in Bangkok, the journey takes about 8 hours either by day or overnight. For a standard seat, the cost of a one-way ticket is about THB500. Taking a taxi from Bangkok's main international airport to Mo Chit costs about THB300 (including highway tolls). By far the easiest way to get around Mae Sot is by bicycle. Bikes are cheap to rent and can often be hired for the entire programme as part of a deal with a hotel or guesthouse. Participants who do not know how to ride a bike will be at a significant disadvantage in Mae Sot, and may find that their range of possible placement schools is limited by transportation problems.
Tourism
There are several interesting tourist sites close to the border zone. Traveling down to Umphang is interesting, and there are nice waterfalls nearby. The journey takes about 3.5 hours by songtaew (and is not good for anyone prone to travel sickness). The ancient capital Sukhothai can also be a weekend destination. The journey takes about 2.5 hours by minibus. It takes about 7 hours by bus to get to the major regional centre, Chiang Mai.
Context
NGL Thailand operates in and around the border town of Mae Sot in Tak Province, northern Thailand. It works with refugees and migrants from Myanmar. Because NGL is based in Mae Sot, many of the people participants meet are from the Karen ethnic group. However, participants also come into contact with migrants from other ethnic groups in Myanmar.
Mae Sot is a very special place providing an unusual window on the Myanmar problem. Because of its border with Karen State in Myanmar, Mae Sot is dominated by the 60-year struggle of the Karen people against their Myanmar rulers. While this is an important part of the Myanmar story, it is by no means the core theme. Also, while the Karen perspective rightly highlights the might of the military machine that rules Myanmar, it offers few insights into ways forward for an ethnically diverse nation once the army is no longer in charge.
Refugees and Migrants
Nobody knows how many refugees and migrants from Myanmar now live in Thailand. The best guess is about 2 million. Only a very small minority — little more than 100,000 — are refugees living in the 10 refugee camps on the Thai side of the Thai-Myanmar border. The Thailand Burma Border Consortium website provides comprehensive information about the camps — www.tbbc.org. The rest of the 2 million people divide into two roughly equal groups of legal and illegal migrants based mainly in border towns. Legal migrants have papers that allow them to live and work in Thailand. Illegal migrants do not, and can be shipped back to Myanmar at any time — though in fact many stay in Thailand on a long-term basis.
Exactly why 2 million citizens of Myanmar are now based in Thailand is a very complex issue. For many years, the push factors inside Myanmar included an entrenched military regime, ongoing slow-burn civil war between the mainly Myanmar army and some of the ethnic groups along the border, economic failure and limited opportunities for work, and pervasive political repression and human rights abuse. The pull factors inside Thailand included escape from the Myanmar army and a heightened degree of personal security, job openings (almost always low grade and low paid) and, for some, the possibility of resettlement to a third country. The facilitative factors included a porous border that can be crossed in five minutes on an inflated inner tube, and a Thai police force that will often turn a blind eye to illegal migrants because of the benefits they bring to local businesses. As Myanmar transitions to democracy, many of these factors are now changing.
Anniversaries and Festivals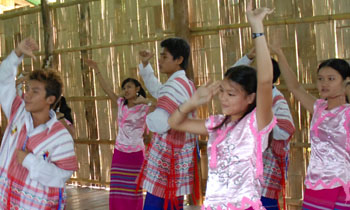 One way of getting to grips with Thailand is working through key dates in the national calendar. These are often shrouded in controversy, and minority ethnic groups have their own special dates that are yet more contested. But the national anniversaries and festivals open an important window on this complex society, and for some key dates NGL participants will be working in Thailand and will find commemorative events going on around them. These are the biggest anniversaries and festivals:
| | |
| --- | --- |
| January 4 | Independence Day (marking the end of British colonial rule in 1948) |
| February 12 | Union Day (marking the interethnic Panglong Agreement signed in 1947) |
| March 27 | Armed Forces Day (marking the Burmese army revolt against Japan in 1945) |
| April | Water Festival/Burmese New Year |
| July 19 | Martyrs' Day (marking the assassination of General Aung San in 1947) |
| August 8 | Unofficial commemoration of the Four Eights democracy uprising in 1988 |
| September 26 | Unofficial commemoration of the crushing of the Saffron Uprising in 2007 |
| November | National Day (marking the birth of the nationalist movement in 1920) |
| Dec/Jan | Karen National Day (the only minority national day with official recognition) |
Books
The Thai-Myanmar border is an intriguing and special area in its own right. On the Myanmar side live individuals both from the Bamar majority, and from minority ethnic groups such as the Karen, Karenni, Mon and Shan. Directly across the border from Mae Sot is Karen State.
No single book adequately describes life on the Thai-Myanmar border, and it is doubtful that any one book ever could capture the extreme diversity of the border zone. The most readable entry point is Mac McClelland, For Us Surrender Is Out of the Question: A Story from Burma's Never-ending War. Probably the best attempt to document life in "the lands in between" is Richard Humphries,Frontier Mosaic: Voices of Burma from the Lands in Between. This can be quite a tough read at times, but it contains plenty of excellent material and is worth reading from cover to cover. Also very good is Phil Thornton, Restless Souls: Rebels, Refugees, Medics and Misfits on the Thai-Burma Border, which was written in Mae Sot and looks from there at Myanmar's ethnic problem and the people who have gathered along the Thai side of the border as a result of it. This is also an easy read, and is highly recommended for NGL participants. Another Mae Sot book, published in 2010, is a history of the first 20 years of Dr Cynthia's outstanding Mae Tao Clinic (which is one of NGL's partners on the Thai-Myanmar border). A free download is available here. Finally, Forced Migration Review has an outstanding April 2008 special issue on Myanmar's displaced people, with about 30 short articles covering many aspects of migrant life. The articles can all be accessed here. Other issues of FMR are also worth checking for Myanmar material.
Several books on crossing the border and working or fighting with Myanmar's ethnic minorities are also interesting. Mike Tucker, The Long Patrol: With Karen Guerrillas in Burma, a short account of a brief foray into Karen State, will be of interest to many NGL participants. Shelby Tucker, Among Insurgents is a decent read. Benedict Rogers, A Land without Evil is useful.
Cast in a totally different context, but actually very evocative of life in a contemporary refugee camp (such as those found along the Thai-Myanmar border), is Dave Eggers, What is the What. This epic account of the Sudan refugee crisis of a decade or two ago – pre-Darfur, but no less horrific – provides perhaps the best description of the challenges faced by Myanmar refugees and migrants.
---